The curtain header refers to the way the curtain is attached to a track or pole. Each heading style offers a different finish to your room.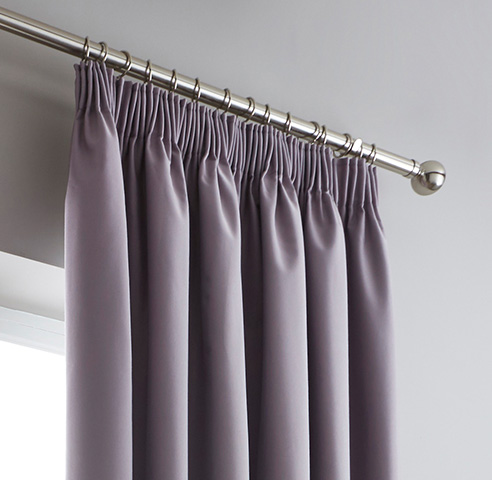 The pencil pleat heading is the simplest and most versatile style. To form this heading, a band of fabric is threaded with string and sown to the top inside edge of each curtain. Small hooks can then be looped through the tape heading to attach the curtain to a pole or track. Pulling the cords on the header creates the classic close pleats, and these can be altered to fit a slightly wider or narrow window.
Shop

Pencil Pleat Curtains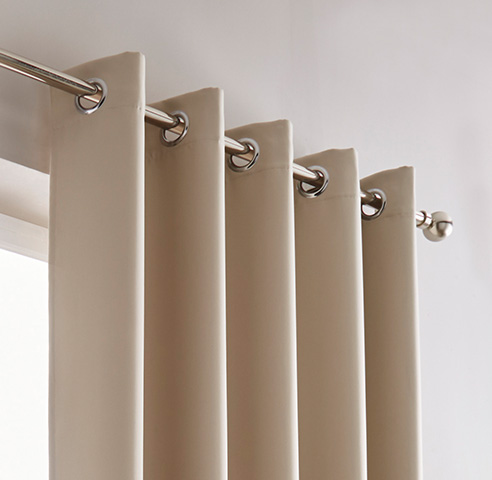 This style consists of a row of metal eyelets across the top of the curtains, causing the fabric to fall in soft, loose folds. Stylish and easy to operate, this type of curtain is only suitable for use with curtain poles, not tracks.
Shop eyelet top curtains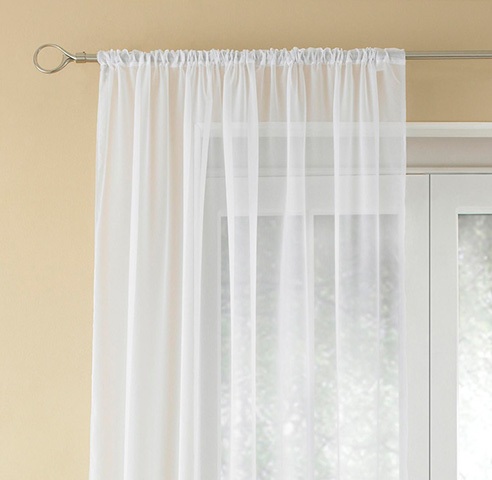 Slot Top curtains feature an opening at the top of both ends where the curtain pole can be threaded through. The curtain is then gathered across the top to create rustic folds. This type of curtain is only suitable for use with net rods and slim poles.
Shop Slot Top Curtains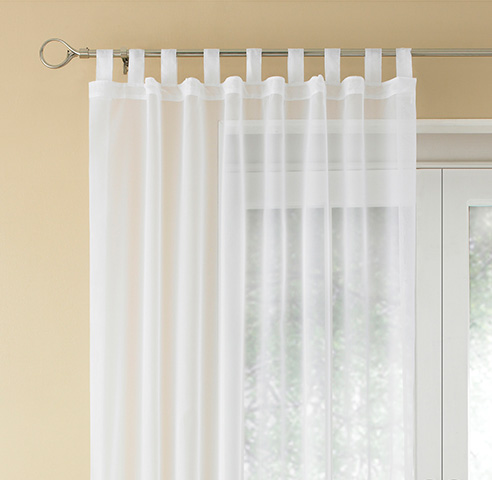 Tabs of fabric are stitched to the top of the curtains to create this style, which makes them hang directly off the curtain pole for a contemporary look. This type of curtain is only suitable for use with curtain poles, due to the way the curtains are hung.
Shop Tab Top Curtains
Sunlight fades fabrics over time. So, it's smart to avoid bright coloured curtains in rooms that get a lot of light, since they tend to fade faster.
Lined Curtains
---
These are great for keeping out cold draughts from your home, as well as blocking out unwanted sunrays. Not only does lining add extra weight which allows your curtains to hang better, but certain types can also help to protect the colour and pattern of your curtains from fading over time.


Shop Lined Curtains
Unlined Curtains
---
You can still get protection from sunrays with unlined curtains,however they offer the added benefit of a lighter feel to your room. Air can pass through this type easily, which helps to lower the temperature of your room during the summer months. These low maintenance curtains can also be washed and dried in your home.
Shop Unlined Curtains
Polycotton Curtain Lining
---
A mixture of polyester and cotton fibres, this cost effective lining can be used in every room in your home. Curtains with this type of lining have temperature-regulating qualities which keep your rooms warm in the winter and cool during the summer.


Shop Polycotton Curtains
Thermal Curtain Lining
---
Keep your energy bill down with thermal lined curtains. Designed to provide maximum heat insulation for your home, this curtain style features temperature-regulating qualities for a cost-effective choice. The extra weight on these curtains also means they hang better, making them a stylish addition to your home.
Shop Thermal Curtains
Blackout Curtain Lining
---
Ideal for use in the bedroom, this clever lining blocks out unwanted light for the perfect night's sleep. They can also help to keepthe heat in andthe cold out.
Shop Blackout Curtains
Measure the drop from the edge of the curtain track or pole to the desired length. If using curtain rings on a pole, measure from the bottom of the ring.

Window Sill Length Curtains:
For window sill length curtains, measure to 1.25cm (0.5in) above the window sill (see 1A on diagram below). If curtains are to hang below the sill, measure 15cm (6in) below it and allow 2.5cm (1in) space above the radiators to prevent heat loss behind the curtains (see 1B on diagram below).
Floor Length Curtains:
Measure 1.5cm from the floor for floor length curtains (see 2 on diagram below). Tab Top: For this style, measure from the top edge of the pole. If your existing curtains are not tab tops, then raise the pole 15cm (6in) above the window to prevent light spillage between the pole and curtains (see 3 on diagram below).
Eyelet Top Curtains:
Measure from the top of the pole and add 4cm for this style. The fabric will then sit above the pole.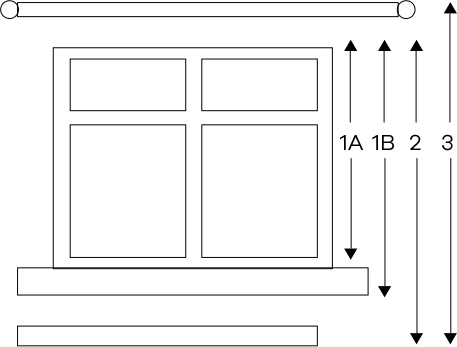 Hanging curtains slightly higher than the window frame will add a sense of height to your room, whilst curtains that fall slightly puddled on the floor will give a more traditional feel. For a modern, crisp look, have the curtain fall flush with the floor.
In order to create that pleated effect, curtains need to have a level of gather. This just means that the curtains are wider than your curtain rail, so that they hang in stylish folds. All you need to do is measure the total width of the curtain track or pole (excluding decorative finials), this should be positioned 15cm (6in) above the window -ideally extended 15 -20 cm (6-8 in). The width of both curtains should be 2 to 2.5 times the width of the track or pole.

Sizes relate to a single curtain, not a pair. Some designs may be available in additional width options. Due to the fabric width available, some curtains may have a join in them.
1:
In order to hang pencil pleat curtains, a pelmet track fitted with gliders is required to hold the curtain hooks in addition to the curtain track.
2:
You will also need a pelmet track fitted with hook and loop fasteners to hang Flat & Box Pleat pelmets. This is also in addition to the curtain track.
3:
Install your track before taking your measurements. Measure the track, not the window itself. Always use a metal tape measure as cloth and plastic tapes may stretch.
4:
Be sure to check your measurements. These must be in full centimetres and rounded down to the nearest centimetre if your measurement falls between two whole numbers (e.g. for a measurement of 100.5cm, record 100cm).
Width:
For pelmet width, measure the distance between the wall and the front of the pelmet track, along the front length, and back to the wall. Finally, add these measurements together.
DROP FOR TRACKS:
Make sure you measure from the top of the track to allow it to be hidden by the pelmet. As a guide, divide the curtain length by six to determine the pelmet length (e.g. length of curtains ordered 240cm, recommended pelmet length 40cm).
Create showroom-worthy style with these simple design tips.
1:
Textures can enhance the mood of your room. Silks and velvet offer a formal feel, whilst breezy linens and crinkled fabrics are more casual.
2:
Do you want your curtains to blend with the room or pop? For blending, choose colours that are the same tone as the wall but a few shades darker, or pick out a subtle colour from the furnishings (e.g. the rug). Contrasting colours will give a more statement finish.
3:
A rule of thumb: if you have patterned furniture or bedding, stick with colour-block curtains. If you have solid-colour furniture or bedding, consider patterned curtains. For a subtle hint of texture, go for a small, neutral print, like dots or paisley.
4:
Create a dramatic, formal look with tiebacks. Perfect for encouraging more light into your room, tiebacks can also add a hint of personality with tassel trims and contrasting colours.
5:
Remember: whilst style is important, function comes first! This can limit your design choices, so don't get distracted by unsuitable yet gorgeous curtain designs –focus on the needs of your room.