Women's footwear from JD Williams



- a great choice of women's shoes, boots & trainers

You'll find a great collection of stylish and comfortable women's footwear at JD Williams from court shoes and strappy sandals to women's boots and ladies' trainers in so many different styles. We also have a great range of cosy slippers, women's socks and shoe care products. We specialise in wide fitting footwear, offering women who need wide fitting shoes from an E to EEE fit as well as some selected styles up to an EEEEE fit, while we also have a great choice of wide calf boots up to ultra wide calf fittings.
Court shoes & slingbacks
Every woman needs a few pairs of court shoes in her footwear wardrobe; they're perfect for the office, everyday wear and special occasions, and come in so many different styles with varying designs, colours and heel heights. Court shoes are a classic style of shoe and so elegant and versatile. The reason why slingback shoes are so popular is because they're really comfortable to wear and offer a great fit with a typically adjustable strap that goes around the back of the foot. They're also a great alternative to full shoes and strappy sandals.
Great choice of women's boots
From ankle boots to knee boots and everything in between, you'll love our range of women's boots that are perfect for autumn and winter, wear with jeans or dresses for an elegant yet practical look. In so many styles including flat and high heel boots, you'll find women's boots for all occasions, including wide fitting calf boots.
Fashion & sports ladies'rainers
At JD Williams our women's trainers are more than just for sports; we have stylish ladies' trainers that are great for everyday casual wear in lots of styles, but of course we also have women's sports trainers for exercising in.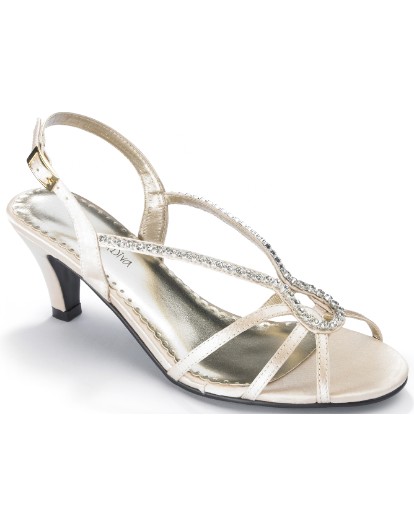 Flat shoes & summer sandals
Flat shoes have made a big comeback this year and are not only comfortable and practical, but they're also very stylish and elegant. You'll love comfortable ladies' canvas pumps, loafers and slip on shoes among our flat shoes range; great for everyday wear. They're the perfect choice of footwear for summer or special occasions and that's why we have such a great range of summer sandals from strappy sandals to summer sandals and everything in between including toe post sandals and flip-flops. Strappy sandals with diamantes and jewels are lovely as party shoes, and summer sandals are lovely for day into night on holiday.
Small & large sizes, wide fitting shoes & boots
At JD Williams we understand that women's feet also come all shapes and sizes, and that's why you'll find a wide range of specialist footwear ranges in all the same styles as our standard size shoes. Our small size shoes start at a size 3 and our large women's shoes go up to a size 10, while we have a fantastic collection of wide fitting shoes from an E to an EEE fit, as well as wide fitting boots from extra wide to ultra wide calf fittings.
JD Williams discount codes & offers
Even with our low prices on women's footwear, we still give you fantastic deals and offers on lots of shoes and boots including sales, money off and special deals. Or you could use a JD Williams voucher code to get money off your first order and rather than trawling discount code websites come straight to our website and take a look at our voucher code page for all the official and latest JD Williams discount codes. You'll also get 10% off your first order at JD Williams and if you sign up to receive our emails you'll be the first in the know for the latest online offers.